CBS News Reports
Award-winning Philadelphia principal aims to inspire students through art
"There's an African proverb that our students are diamonds in the rough, and when you dust them off you will truly see them shine,"
Evans, the head of Allen M. Stearne Elementary School in Frankford, is one of seven administrators awarded the annual Distinguished Principal Award from the Lindback Foundation.
Principal Evans not only believes in our children but encourages them to believe in themselves. He aims to inspire them through art.
Evans can be found every morning inside the schoolyard rounding up students before first bell.
"Young lady, get in line," he tells a student. "Young man, get in line."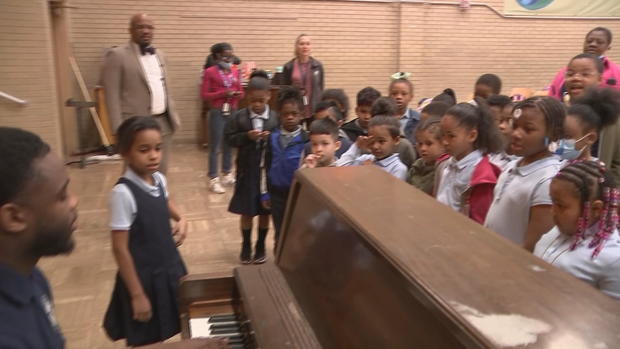 To kick off the day, all students must recite the scholar creed.
"I have great expectations for myself," the students say. "Yesterday's failures are behind me."
"It's something just to remind them as they are moving throughout the day," Evans said, "to have great character and integrity."
Evans won the award after working more than a decade in the School District of Philadelphia.
The award is being presented Tuesday. Each of the seven winning principals will be given $20,000 to complete a school project.
Evans' goal is to transform a classroom into a state of the art media center.
"We have to give our children opportunities that other communities have," Evans said. "If we have all these children that want to be in the arts and entertainment and want to take the opportunity to sing, and to write, we want to have something on campus or onsite for them to do it right here."
As we were talking, just down the hall inside the auditorium we heard the sweetest little voices singing.
"Music, I think just opens doors for so many of our children," Evans said.
It was obvious a media center is just what these students needed. Evans says don't be surprised if you hear him singing a tune or two.
He even sang a line from Whitney Houston's "Greatest Love of All" for us:
"I believe the children are our future, teach them well and let the lead the way," he sang.
As former student in the Philadelphia district himself, he now hopes to inspire young people to dream big. But it starts with the Stearne scholar creed:
"I accept the challenge to become the best that I can be."
Coming May 23, 60 distinguished teachers will be given a similar award from the Lindback Foundation.